CSBattery OPzV Series Tubular Deep Cycle GEL Battery
OPzV Tubular Deep Cycle Solar GEL Battery, own 20-25years long life, your best partner for solar market and hot area.

OPzV batteries offer the highest cycle life among all other lead-acid batteries, with significant savings on the cost per cycle. They are maintenance-free and have robust construction, providing the highest level of reliability and performance. OPzV batteries have superior deep discharge durability and excellent recharging properties. They are the best choice of batteries for industrial projects, even in remote installations with minimal supervision. In some regions of the world, where electricity is unstable, high capacity backup power is required. Whether you're generating backup power from solar panels or wind turbines, frequent power outages require high performing batteries with excellent deep cycling capabilities. CSBattery tubular gel OPzV batteries offer high capacity reserve power and true deep cycling performance. With a design life of 20 years and a maintenance-free operation, OPzV batteries are perfect for regions with an unstable supply of electricity. CSBattery OPzV batteries are also completely spill-proof, which makes them safe to install anywhere, even in remote environments with minimal supervision. OPzV batteries are also available in a front terminal design upon request.

Advanced Features OF OPzV Tubular Deep Cycle GEL Batteries:
Ø Environmentally friendly Ø Completely Maintenance-Free Ø Non-Spillable construction design.
Ø Wide Operating Temperature Range(-20°C~+60°C) Ø Longer Life(20years designed life) Ø Explosion Proof
Ø Valve Regulated & High Discharge Rate Capability Ø Low Self Discharge Ø Independent of Position
Ø Ease of Shipment Ø No need of balanced charge or boost Ø No Memory


OPzV cells have gelled electrolytes and tubular positive plates, which work together to deliver superior cycle count. The main advantage of these batteries and all other types of lead-acid is that OPzV technology utilizes a very high design life of 20 years. This is thanks to the unique battery construction, which is enhanced with a positive tubular plate and a higher lead density. Other lead-acid batteries are designed with flat plates, which deliver a good cycle count, but not nearly close to the cycle counts offered by tubular gel cells. This makes them ideal for applications requiring reliable batteries that deliver many years of maintenance-free and headache-free operations. Some of these battery applications include solar energy, telecom towers, reserve power, radio stations, power stations and commercial size UPS projects. These projects normally require a battery with a top terminal design, which is why we made that our standard. However, CSBattery also offers the option of a front terminal design, which is more suitable for power cabinets. Regardless of which battery design you use, the technology and inner construction of the battery will be very similar. Below you will find a table with detailed information about how OPzV batteries are constructed.
Product Structure
Component

Positive plate

Negative plate

Container &Cover

Safety valve

Terminal

Separator

Electrolyte

Pillar seal

Features

Turbular Plate high Sn low Ca grid with Special paste

Balanced Pb-Ca grid
for improved recombinati on efficiencv
Fire resistanc e ABS (UL94-V0octional)
Flame
Si-Rubber and aging resistance
Female Copper lnsert
Advanced PVC for high pressure cell desbm
Silicon Gel
Two layers epoxy resin seal
Assembling Over view

Quality Control & Certifications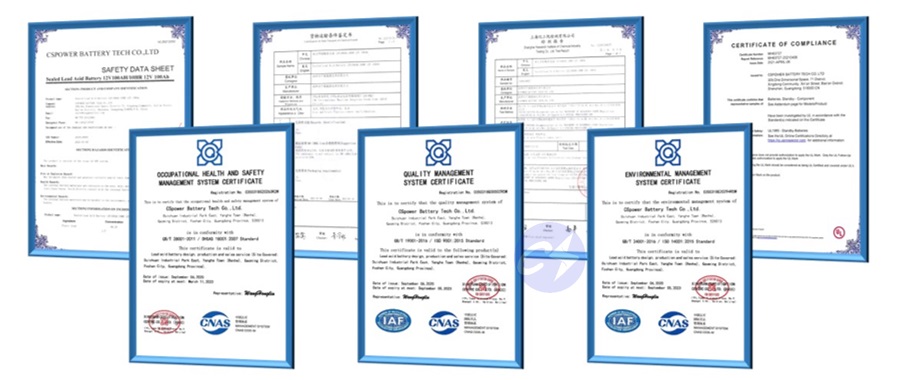 Φ ISO9001/14001/18001 Φ IEC 60896-21/22 Φ IEC 61427 Φ Eurobat guide, long life
Φ BS6290 part 4 Φ GB/T 22473 Φ CE Φ MH63727-UL
Product Packing

Free OEM/ODM, CSBattery is competent at ODM and OEM
Orders according to customers realtime request.
Please come to us for your quality battery and solar partner in China today.
OPzV Series Fmaily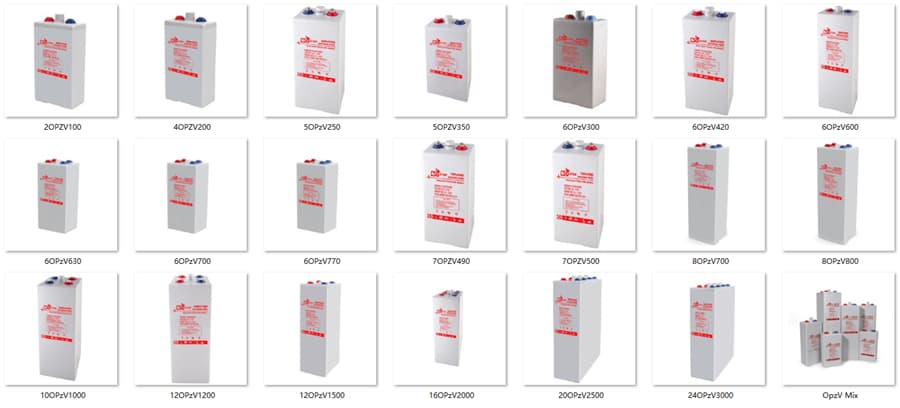 2V500Ah, 1000Ah, 1500Ah 2000Ah most popular models
2V200Ah, 2V300Ah, 2V350Ah, 2V400Ah, 2V500Ah, 2V600Ah, 2V800Ah, 2V1000Ah, 2V1000Ah, 2V1200Ah, 2V1500Ah, 2V2000Ah, 2V2500Ah, 2V3000Ah
12V100Ah, 12V150Ah, 12V200Ah
Inuiry us get Free Gift tooling